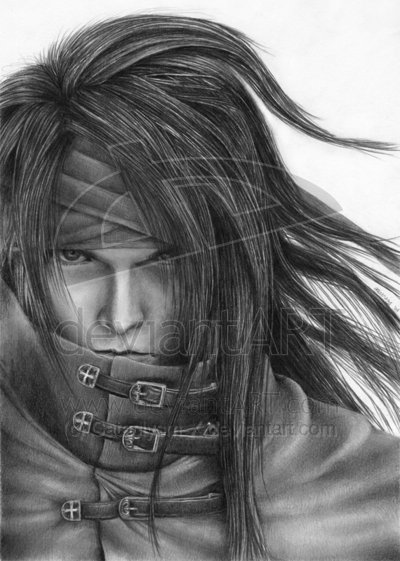 Playby:
Vincent Valentine
Final Fantasy Series
Basic Character Information:
Name:
Jinsei Senju
Alias / Nickname:
Age:
22
Gender:
Male
Appearance:
Standing at 6 feet tall, weighing 165 pounds, Jinsei has a slender fit build and a dark appearance. His pupils are greenish brown and his lids have become dark from the lack of sleep and sunlight. Jinsei hardly ever blinks, which is due in part to the fact that he is always alert. He has a pale complexion making him stand out as a Senju, who are so accustomed to the sun. He has a solemn face which is used to the same three expressions, anger being the only feeling that could ever truly take hold of him. When displaying happiness, his facial expression appears fake as he never had much to smile about as a kid. The third expression, it is the one he favors the most, which is his look of determination. It symbolizes all he stands for and he believes it suits him well.
He has jet black hair reaching his shoulders which is parted, revealing only the right portion of his narrow face. He has predominate sharp features including his nose, cheek bones, and chin. He has a slim yet muscular physique, with long arms and legs, making him very agile. His time in prison and intense training has left Jinsei with severe scaring on about 20 percent of his body. He has suffered from various blades, bludgeons, and burns. His success in the Chunin Exams left him severly battered, with broken ribs and several fractures throughout his limbs. Across the top portion of his back is remnants of a once active sealing jutsu given to him in the Kitai prison. The seal is currently suppressed, and a scar that covers more than the right half of it remains. Covering the rest of his body and predominantly his arms are various seals and inscriptions for fuinjutsu techniques.
He wears black banded leather pants that reach to his ankles. On each thigh is a banded strap that holds pouches for ninja tools and supplies. On his feet he wears black boots with metal straps on the ankles, and plates on the bottom for deflecting minor weaponry. He wraps his chest with cloth bindings and covers them with a tattered long sleeved black shirt, tucked into a black metal banded belt. He finishes with a gray, boiled leather jerkin with heavy padding on the upper torso with connecting shoulder pads. His hands and arms are wrapped with cloth bindings which is covered with boiled leather bracers used to hide the seals he has inscribed into his body.
Covering his entire body is a dark sage green cloak that hides the lower portion of his face. He prefers to tighten the buckles around the neck portion when he is in though as it reminds him of the prison cell he spent most of his time meditating in. Around his neck is his ninja headband with Seikogakure symbol, although he will put this band around his black head wrapping when on official missions.
Personality:
As a kid, Jinsei was fun loving and in touch with his natural surroundings. Despite his fathers hateful ways, Jinsei only had love to give. When his father was imprisoned Jinsei had to change his attitude in order to keep his family alive. The carefree Jinsei had to become serious and cold in order to steal for his brother and mother. As he grew older his care for nature waned, and a void began to build in his heart. It took imprisonment in order to change Jinsei's cold persona. After 5 years in a cell he became cautious and calculated. He likes to take his time to and work out an entire plan before engaging. Living most of his life in prison, he learned to never rush into a situation because it might be your last. He prefers to use his keen senses and his natural surroundings to solve a problem instead of brute force. When he is pushed to his limits he will leave no expense in order to tackle his goal and won't spare a single drop of chakra, even if it means exceeding the limits of his own mortality.
    Jinsei is fascinated by the Senju clan, and spends most of his free time reading about their various techniques. He believes that there is much to unlock inside the earth and that nature holds an untapped source of knowledge. As a Senju, Jinsei, has a symbiotic relationship with nature, as he considers the trees to rely on him as much as he relies on them. He understands that nature is the embodiment of determination and strength, so he strives to be a master of the Senju arts. He has developed a strong understanding of biology and fuinjutsu, making him a formidable opponent when surrounded by foliage.
    Jinsei can be quite cold as he has spent a long time locked away, unaccustomed to most peoples behaviors and colloquialism. He tries to be around people as much as possible as it boosts both his strength and spirit. When alone he becomes depressed and will often seek out animals or plants for companionship, as he find them to be more reliable than humans. Jinsei feels that he lost most of his childhood, so he strives to be carefree and fun loving, even though his gut might tell him to be straight laced. Jinsei  tries to remain neutral in most situations as to avoid unnecessary dramatics, and is most likely to prove himself through actions instead of words. It is is this quality that inspires others when he fights, making him a great leader in the battle field.
    Jinsei has experienced a great deal of emotional and physical pain in his life, making him numb to many things. He has a high threshold for pain due to the many beatings he has taken in his life and he is able to endure hardships better than most. The same mindset that allows Jinsei to endure, is also what makes him so emotionally numb. When troubled he prefers to seclude himself instead of seeking out others for help. He will suppress his feelings and often take up more missions when depressed.
   Overall, Jinsei is someone who feels the need to protect. He is a warden of nature and a protector of his friends. He believes that helping others is a gateway into helping ones self, and would gladly give up his own life for another. He seeks meaning and purpose and fights to leave his mark on this world.
Your Ninja Way:
Find your path and never wander, for only then can you succeed.
Goals:
To protect those who can't protect themselves and to advance himself as a ninja so he or his family never has to go hungry again. Jinsei wishes to unlock all of natures secrets with his Senju abilities. He believes he is natures guardian, a protect of the forest, and protector of those who inhabit it.
Bloodline Information:
Bloodline Name:
Senju: Wood Release
Kekkei Genkai | Bloodline Techniques:
Mokuton/Wood Release
Approved Bloodline Application Link:
http://www.narutor.org/t28536-wood-release-mokuton-kekkei-genkai
Clan Information:
Clan Name:
[Name of the approved clan that you are making your character a part of. N/A if clanless.]
Clan History:
[Please copy and past the history of the desired clan here.]
Clan Application Link:
Role Information:
Title:
Jounin
Rank:
A
Residency:
Seikogakure
Organization | Group:
Skill Information:
Skill Specialty:
-
Main:
Fuinjutsu
-
Sub:
Ninjutsu
-
Tertiary:
N/A
Elemental Affinity:
-
Main:
Earth
-
Sub:
Water
-
Advanced:
Mokuton-Wood Release
Special Characteristics:
Special Characteristics:
Physical SC's:
Mental SC's:
Senju SC's:
History Information:
History:
Birth Arc:
Prison Arc:
New World Arc:
Arsenal:
Styles Page:
Equipment Page:
Jutsu Page: