______________________________________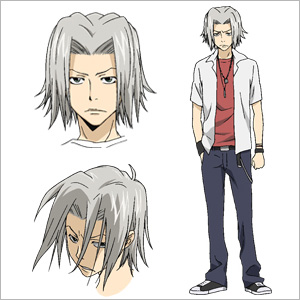 Playby:
Hayato Gokudera from Reborn!
Basic Character Information:
Name:
Kosei Kaguya
Alias / Nickname:
None yet
Age:
15
Gender:
Male
Appearance:
Kosei is a young fifteen year old boy, he stands at about five feet and eight inches and weighs one-hundred and twenty-five pounds. Due to his training in taijutsu he has developed a more muscular and toned body than most of the other boys his age. His hair is a light silver and flows down to just a little over his neck He  also has mossy green eyes. When in casual attire he can most often be seeing a red T-shirt and a white shirt over it. He has casual blue jeans and black sneakers. As for accessories he has two necklaces that hang down at different lengthens and black arm bands on each arm.
However when training or out on a mission or any situation where he may enter combat he wears clothes that are much different. Because of his unique ability to manipulate his bones he chooses to wear a loose white robe that can be slipped off through the opening in the front to expose his entire upper body, this is usually to avoid ripping his own clothes to shreds. Along with this he has loose black pants that most ninja wear, they are comfortable and easy to move in, in short he dresses very light.
Personality:
Kosei growing up was always a quiet child, it was fairly obvious that he was cold distant and anti-social. He did not like to play with other kids and now as a ninja he does not like to socialize with his "peers". Most of the time he keeps to himself but he is a bomb with a very short fuse, when he gets mad he wont think twice about telling you off. He had little respect for people unless they are superiors or recognizably strong. He believes that strength determines whether a person is worth time or not. "If you cant keep up you aren't useful". He is egotistical and very prideful in his ability.
In social situations he tries to ignore others, not caring for whos popular or whats "in" with the other kids his age. If pushed to talk to someone he will most likely snap and begin yelling, throwing any insult he believes to be a fact, and depending on the situation he may even get violent. If another ninja thinks they are strong Kosei will most likely be the first to challenge them, to either prove them wrong or test their strength. In the event they are stronger he will train, this is where he takes out most of his frustration. He spends most of his time training and fighting, always looking for the next challenge. He is hard to get along with but he is still a genin who has much to learn.
Your Ninja Way:
Kosei's philosophy is simple, get strong, and once you've become strong become stronger! If you arent strong you dont matter. This nindo is subject to change as the character develops more
Goals:
Kosei only desires to become strong, he has not set limit yet. He has no desire to become the Kage of his village but to surpass those who have defeated him. His arrogance and ego have him striving for a much higher power and he will do almost anything to get it.
Bloodline Information:
Bloodline Name:
Corpse Bone Path / Shikotsumyaku
Kekkei Genkai | Bloodline Techniques:
Spoiler:
Approved Bloodline Application Link:
Open
Clan Information:
Clan Name:
Corpse Bone Path / Shikotsumyaku
Clan History:
Spoiler:
After the destruction of Kitai, the members of this Bloodline followed the Hyuuga clan until they found Kumokagure and joined the village.
Clan Application Link:
http://www.narutor.org/t30649-corpse-bone-path-shikotsumyaku
Role Information:
Title:
Genin
Rank:
C rank
Residency:
Kumogakure
Organization
| N/A
Skill Information:
Skill Specialty:
-
Main:
Taijutsu
-
Sub:
 Ninjutsu
-
Tertiary:
Elemental Affinity:
-
Main:
Raiton [lightning]
-
Sub:
-
Advanced:
Special Characteristics:
Special Characteristics:
Spoiler:
History Information:
History:
Birth Arc
Spoiler:
Academy Arc
Spoiler:
Genin Arc
Spoiler:
Arsenal:

Styles Page:
Equipment Page:
Jutsu Page: