Playby: Spirit Albarn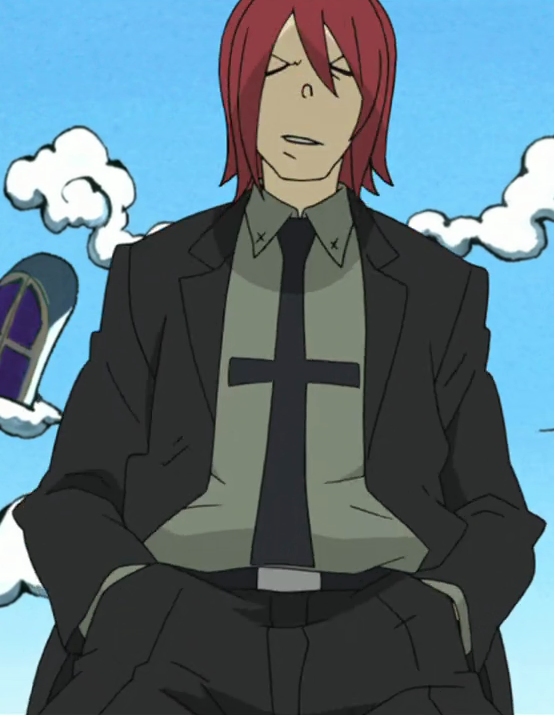 Name:
Hamano, takumi
Alias / Nickname:
Ham, or tak.
Age:
25 years old
Gender:
[Male]
Appearance:
Takumi Hair is neck length and red, being straight, not curly. He has green eyes and a normal nose.
No piercings or scars, but he has clean straight teeth. He wears a three piece suit consisting of a black over jacket, black dress pants and inner grey shirt. He sports black, polished wingtip shoes with black laces and white socks. He wears a tie in the shape of a cross, just to liven things up.
Personality:
Takumi has lived the lives of three people, A thief, a solider and a rouge As such he is conflicted in his feelings and motivations. He wants to help people, but is unsure of his ability to help. He wants to trust people, but cannot sue to betrayal. He wants to smile, and laugh; but never does. He puts out a persona of calm and collect but inside he's a mess, his emotions running train on him. The death of his squad mate by the hands of the other left him with deep scars that will never go away. Now in his twenties he works alone, taking contracts and mission with a ferocity. He feels that in doing so he'll find an answer, or some glimmer of truth. Until then he prefers to be alone, so no other can be hurt by his incompetence. He has no friends or allies to speak of, in fact he hasn't spoken more then ten words in the past month. The only people he comes in contact with are shopkeepers and the people who give out the mission; they have all learned not to speak to him, for they'll gain no answer.
Your Ninja Way:
"Trust is everything, without it we are but animals."
Goals:
To find the truth, in all it's forms.
Bloodline Information:
Bloodline Name:
N/A
Kekkei Genkai | Bloodline Techniques:
N/A
Approved Bloodline Application Link:
N/A
Clan Information:
Clan Name:
N/A
Clan History:
N/A
Clan Application Link:
N/A
Role Information:
Title:
Genin
Rank:
C-Rank
Residency:
Seikōgakure
Organization | Group:
N/A
Skill Information:
Skill Specialty:
[Pick 2 specialties: Ninjutsu, Eijutsu(Medical), Taijutsu, Genjutsu, Fuuinjutsu, Puppetry.]
-
Main: Ninjutsu
-
Sub: Taijutsu
-
Tertiary:
[For Jounin or higher with Special Characteristic only]
Elemental Affinity:
-
Main: Fire
-
Sub:N/A
-
Advanced:
Special Characteristics:
Special Characteristics:
Spoiler:
History Information:
History:
ARC the first:
I don't ever remember having a home, just sleeping out on top of buildings. I would jump across them and look for windows that were open. If they were i'd sneak in and steal some food and money, then leave. Eventually i got good at lock picking, so I began hitting bigger and bigger places. This caught more and more attention for the local shinobi, who were now tasked with finding and bringing me in. They thought i was a master thief, sneaking in and out without a sound. They finally caught me sneaking into the armory on the academy grounds to steal some kunai to sell on the black market. They were of course surprised to find I was only ten years old. So instead of killing me or locking me up for ten years they gave me a choice. Exile or join the academy. I choose the latter.
ARC the second:
My days at the academy were a blur, one minute i was studying kunai techniques and shuriken throwing, the next I was shooting fireballs at targets with my chakara. It all went so quickly that before i knew it I was thirteen, old enough to take the genin exams. I thought for sure I was ready and began my exams the first years. I failed miserably, but it taught me a lesson, don't rush, but instead focus and slow down. My next exam I passed and became a full fledged genin, patrolling and protecting my village.
ARC the third:
My squad was assigned to find a rouge ninja, hiding out in a valley near the village. He was coming out at night, killing young shinobi by surprise and taking their gear as trophies. We had just entered the valley when we spotted the cave, coming up on it we saw headbands and kunai on the walls, all arranged with meticulous care. I turned to confer with my squad mates to find one of them on the ground, his throat cut out. I saw the other standing there, kunai in hand. I wanted to yell, or scream but then he did something unexpected. He took his kunai and slammed it into his heart, killing himself, his hand clenched on the weapon. I never will forget that day, how my trust was shattered, how my squad mate had killed so many of our friends.. and then taken his own life, leaving me here to think on it, why had he done it?
ARC the Fourth:
After the death of my comrades I took up a solo act, being sent on several successful missions after the event. However I never took the chunin exams, believing I wasn't worthy. I had let them die, both of them without trying something. So I spent the next eight years training away, completing mission and trying to find my confidence, my trust in myself. However it never came. I'm still a genin, still training away, trying to find my trust, trying to find the truth.
Arsenal:
Styles Page:
Jutsu Page: